Webmasters Notes This case has shaken the Hospital to the extent that they have employed high power lawyers to harass the patient and family who are witness in a GMC case and they have attempted to have my sites removed by threats to ISP's all of which have failed and resulted in me putting more sites up all over the world.
Leighton Hospital have in this case totally failed in there duty of care in this case.
The failed to obtain informed consent as the GMC have identified that the doctor taking the consent couldn't give enough information for informed consent so technically the whole operation was assault.
The failed to assess her anaesthetic needs which resulted in her nearly dyeing and being in extreme pain.
The gave 10 mg of Midazolam in one dose as shown on her records which is potentially fatal.
They gave 900mg of local instead of 400mg and didn't give adrenaline which was nearly fatal.
She was sexually abused by having her knickers removed when she had expressly forbidden it.
She was sexually abused by them giving a suppository when she had said no.
They failed to take care of her pain relief.
What is worse when they complained they failed to find anything wrong and cover up what had happened. After the GMC HCC and Ombudsman have found all the problems its hard to see why Leighton Hospital didn't find anything wrong but put further patients at risk from the surgeon another potental Barbara Salisbury. They are refusing to name the nurses who sexually assaulted this patient Witness are helping to fight this case and the people who did this will be brought to justice.

My partner went into Leighton Hospital Crewe for a very simple hernia operation to be done under local anaesthetic and sedation she was supposed to go in at 12 and be home for 2 oclock the operation was supposed to last 30mins.


She gave consent for sedation and local anaesthetic but this was not INFORMED consent as at no time did they tell her she would be in terrible pain or may die from the sedation, or that no anaesthetist would be present. The GMC in there investigation found that the young doctor who took the consent didn't have the knowledge to answer any question or give enough information for the consent to be valid the hospital in one of their reply state She was given insufficient information about the operation Therefore the whole operation was done without consent which makes all those who took part guilty of Assault and battery

The operation was carried out on November 11th 2005 at approximately 3pm.We arrived early as requested at 11:30 and went to the new medical centre at which point I was told that the patient must go in alone as partners weren't allowed. She sat there alone terrified from 11:30 until 3 oclock and during this time a nurse asked her how she would pay for her pain relief. She was shocked as she was told not to bring valuables into the hospital. The nurse said if she wanted pain relief after the operation she would have to pay for them.

Before the operation when they were preparing her she told the sister she didn't want her knickers removing and the sister agreed she could keep them on as they were not in the way she also told the Doctor she didn't want a suppository for pain relief after the operation.

She was taken in for the operation and according to her medical records given 10 mg of Midazolam in one go which is a potentially fatal dose. The hospital now deny their own records and say it was given over a long period of time but the evidence shows they couldn't have done as the correct dose is 1 mg over 2 mins and then wait 2 mins before giving anymore total time 40 mins she was in theatre 10 mins after the anaesthetist came and they state the surgeon gave the sedation so unless he operated with one hand he gave all 10 mg in one go. Why the anaesthetist didn't give the sedation while she was there is a mystery. The operation chart clearly show that she was given 10 mg of Midazolam in one go. Midazolam is an interesting drug as its main use is to make you forget what has happened to you and is often used to take out teeth and other short term pain full minor operations. Its not pain relief but can be used to make you forget what happened so you don't remember the pain and this is often the case as its used as a cover up. If this operation had only lasted 30 mins as it should we would have never known what happened.


There is a lot of complaints about the use of this drug as you forget what has happened but your subconscious mind can still react to what happened see http://ideas.4brad.com/archives/000100.html. It is also used as a date rape drug and this means you cant remember being raped but your mind will react to what has happened. This makes things worse as you don't know why you are having strange feelings.
Its often used as a Date Rape drug and a male nurse got 7 years for using it
Midazolam can lead to the patient experiencing daydreams with a sexual content.
For more info see

http://versedbusters.blogspot.com/2005/12/introduction.html or

http://www.askapatient.com/viewrating.asp?drug=18654&name=VERSED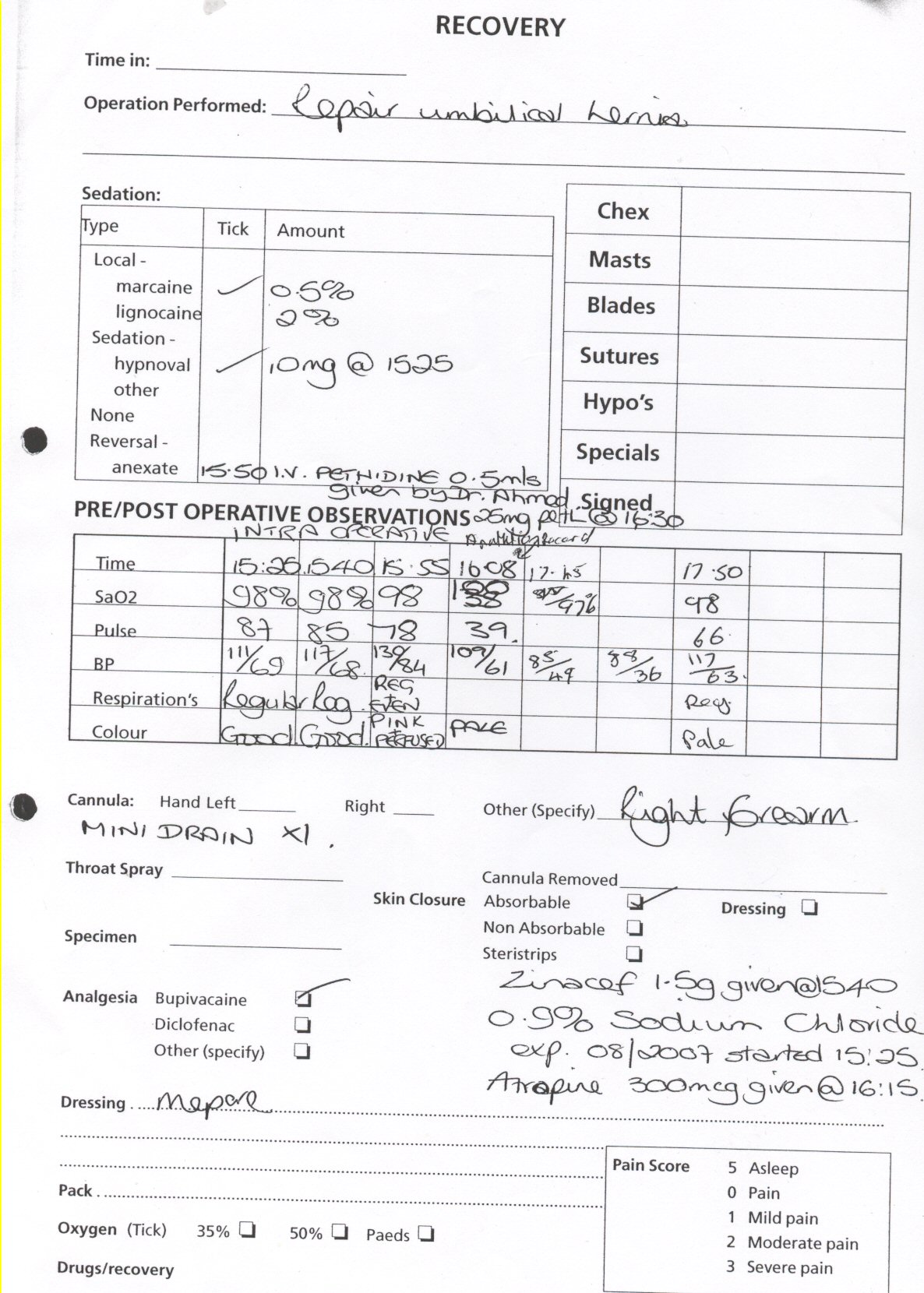 Click on the chart for a full screen note it confirms she was given 10 mg in one go and note how they suddenly fail to fill in the details when things go wrong and how the chart has been altered

Leighton hospitals own chart show she was given 10 mg midazolam in one go but they now deny this. But look at the states for 15:08 its shows her O/2 level was down to 38% but someone has changed it to read 100%. At no other time during the operation was her O/2 ever 100% we believe this is a deliberate forgery to hide what has happened. Note also how they take the states every 15 mins but suddenly after her heart drops they don't take it again for over and hour other information which they collected up to that point suddenly isn't recorded either. The surgeon Professor Aluwihare now claims he didn't give the sedation but left it to a very junior doctor who was incapable of giving the drug properly but we have a letter from Leighton Hospital solicitor stating that he did administer the drug.

She was given local aesthetic for which according the Health Care Commission (they investigate complaints about hospital) the MAXIMUIM dose for her is 400mg which must be mixed with adrenaline so the heart doesn't stop they gave her 900mg and no adrenaline. We believe this was negligence on their part which could have killed her.

As soon as she was asleep they removed her knickers in the most vile and perverted way without her consent even though she had forbidden them to do so we believe this assault and battery. This was done at the beginning of the operation but the surgeon claims it was at the end so they could give the suppository which the patient was awake and positive they had already been removed so why do they lie? The nurse said they were removed for none medical reasons ie to stop them being stained with iodine.

She was asleep for the start of the operation but later when she woke up during the operation and screamed with pain which was 10 times worse than having a baby this is everyone's worse nightmare. She describes seeing all her stomach covered with blood and her insides on her stomach. They then suddenly realized she was awake and put a board up so she couldn't see. The surgeon claims he didn't hear her scream but was aware of her pain and her crying. The surgeon called for an anaesthetist but there wasn't any so he carried on with her in pain he made no attempt to stop or see the patient was all right. On 3 separate occasion she was screaming the place down in pain and trying to get the mask off as she shouted stop.

After 50 mins her heart rate dropped over 10 mins from over 80 bpm to 30 bpm at which point she passed out and believed she died. She remembers the doctors panicking at this point. She tried to tell them she couldn't breath but she was fighting for her life and unable to speak or get her breath. It took them the ten full mins before they gave her a drug to bring her heart back up. The chart shows what happened. Click on the chart to see it full screen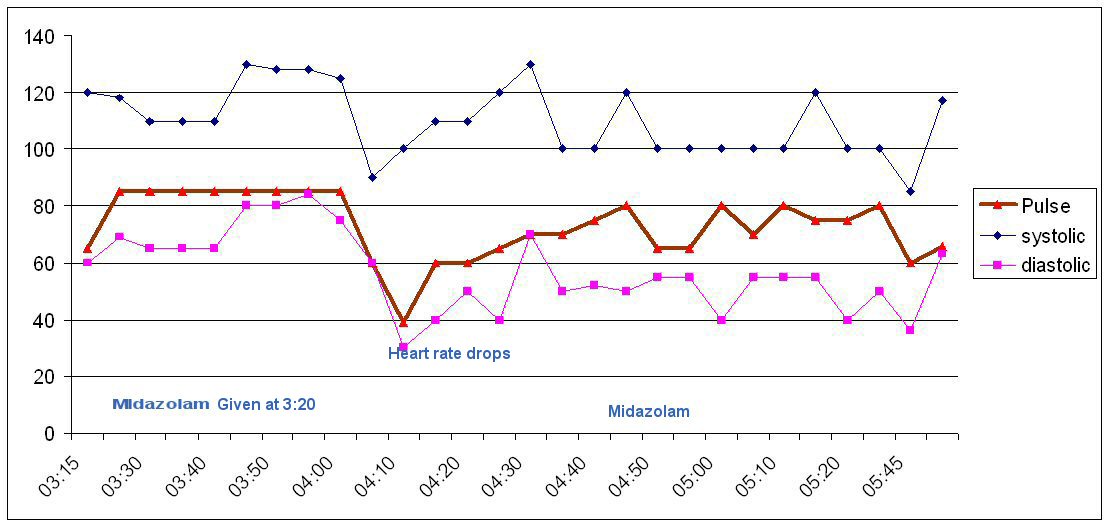 An overdose of local or sedation can cause the heart to stop and we believe this is what happened due to their negligence this experience is life changing.

The operation finished after 2 hours and they then gave her the suppository without her consent they simply lifted her legs and said you have got to have this no explanation or request she was still groggy from the sedation but knows her knickers weren't removed at this point as the surgeon suggested. A similar case http://www.bmj.com/cgi/content/full/310/6971/43 an anaesthetist was struck off for the same thing.

She was kept in Leighton hospital for 2 days without any explanation as to why and wasn't told what had gone wrong or why the 30 min operation took over 2 hours. They kept saying she couldn't go home until a doctor had seen her but none came we had to effectively force the issue by saying she was going home now. While she was in Ward 11 she was terrified as it was full of dieing people and in a statement to the GMC's solicitors she describes how an old women was dieing and kept asking for the nurses to call her family she was told to shut up and go back to sleep and received no medical treatment this went on all night. In the morning she had died

We complained to the hospital the same day and made a formal complaint within days of the operation and also the GMC and the Health Commission who have taken a year to investigate.
Extract from the GMC Report

The surgeon Professor Aluwihare if you have any complaints about this man let us know as the GMC would like to know

The GMC have filed a series of charges against the surgeon Professor Aluwihare who did a runner abroad as soon as they investigated.
The Case Examiners have noted the conclusions of the HCC report into this matter. It is obvious that the HCC expert interpreted many of the facts of the case in a way different to that of the experts commissioned by the GMC. However, this may be explained by the remit of the HCC being different from that of the GMC.
Both experts are united in the conclusion that Professor Aluwihare should have seen the patient himself earlier, and should have postponed the surgery if no anaesthetist was available.
Professor Aluwihare either did not discuss the procedure with the patient when he met her, or if he did, failed to record what was discussed. Neither scenario is good medical practice. Professor Aluwihare says he had a detailed discussion but that he omitted to make a record. He had delegated consent taking to Dr Ahmed, but did not ensure that the patient was fully advised of possible risks and complications. The expert's view is that a junior doctor would be unlikely to be able to give detailed advice about what an experienced surgeon would deem to be a difficult operation.
Professor Aluwihare admits that the sedation and supplemental pain killer was given under his guidance by the House Officer. He disputes how much was given, believing that the midazolam was not given as a 10 mg bolus, but in increments, as recommended. The case notes would suggest this is not the case as it is clearly recorded that 10 mg midazolam was given at 15:26. It is in dispute whether 10 mg bolus was an incorrect choice in the case of a patient as large as the patent. However, as Dr Ahmed was acting under direct instruction from Professor Aluwihare, it would appear that the Professor had delegated the performance of the sedation to someone who did not have the appropriate competence and experience. Professor Aluwihare maintains that midazolam was given incrementally. The midazolam, therefore, was either given as a 10mg bolus, (which Professor Aluwihare accepts would have been inappropriate), or he failed to ensure that an accurate record was kept to show that the drug was given in increments.
The expert opinions both believe that express consent is required for the use of suppositories, and that Professor Aluwihare did not obtain this.
The case is now referred to a Fitness to practice panel


Leighton hospitals replied to our complaints

Main points from the hospitals replies

Dr R Okell, Clinical Director Anaesthesia has answered these questions
Had the patient been given a general anaesthetic, she would have certainly experienced less pain but as I advised you in my previous letter, this carried a greater risk to the patient because of her weight. Professor Aluwihare did ask for an anaesthetist during the procedure but none was available although one was present at the beginning of the procedure and helped to get the line in. If one had been available, they may have been able to increase the efficiency of the sedation, which would have reduced the likelihood of the vasovagal episode and the fluctuation in pulse and BP might have been less.

Dr Okell tells me that he does not know how surgeons acquire training in the use of Midazolam ( I find this reply very frightening shouldn't they know if people are qualified)

The patient says during the operation she was in so much pain she was screaming the place down and crying. You ask if we can confirm that she was screaming and for how long.

Professor Aluwihare tells me that he cannot remember The patient screaming at all. She had discomfort from time to time and articulated this quietly or briefly cried very quietly. He tells me he could see The patient face and was very aware of the need to control her pain.


Main points from the Health Commission reply

The independent clinical adviser comments that it was predictable that this would probably be a difficult and long operation. A general anaesthetic was not contraindicated due to the high BMI of 54, but would present significant risks. However, the technique using local anaesthetic reduced the risks of general anaesthetic, but carried risks associated with local anaesthesia. The independent clinical adviser clarified that the clinical records showed the amount of local anaesthetic used was lidocaine (2%) 400mg, marcain (0.5%) 100mg and lidocain (0.5%) 400mg.

In the clinical adviser's opinion the maximum amount of plain local anaesthetic would have been in the order of 3 x 138 (weight of patient) = 414mg. He states that it is surprising that so much local anaesthetic was used and that adrenaline was not added.

The patient was therefore possibly at risk from the dose of local anaesthetic. However, having an anaesthetist present would have reduced the risks as the anaesthetist would have been able to monitor, administer appropriate drugs, and resuscitate in the event of vomiting and aspiration which was essential in such a patient (with a BMI of 54 and weight 138kg).

The clinical adviser recommends that the trust formulate a policy concerning the presence of an anaesthetist, especially when a patient receives large doses of local anaesthetic, for abdominal procedures and patients with a BMI of 54.

My expectation is that Mid Cheshire hospitals NHS Trust will contact you in writing within the next 25 working days in order to set out the steps that it will be taking in response to the recommendations for further action that I have made. I would also expect you to be informed in due course of the outcome of that action, and I will be asking the trust to copy the Healthcare Commission in on the relevant correspondence. The letter was sent on 21 December but the hospital has not complied with the above order in the time stipulated.

The Ombudsman's report
The Ombudsman has completed their investigation and found the HCC failed to identify that the removal of a women's knickers after she had said they couldn't be removed and giving a suppository without consent must be reinvestigated as soon as possible. We believe that this will reveal that the patient suffered assault and battery which is a criminal offence.
Battery is defined
A battery is the wilful or intentional touching of a person against that person's will by another person, or by an object or substance put in motion by that other person. Please note that an offensive touching can constitute a battery even if it does not cause injury, and could not reasonably be expected to cause injury. A defendant who emphatically pokes the plaintiff in the chest with his index finger to emphasize a point may be culpable for battery (although the damages award that results may well be nominal). A defendant who spits on a plaintiff, even though there is little chance that the spitting will cause any injury other than to the plaintiff's dignity, has committed a battery.
Assault and battery has a 6 month custodial sentence and a £5000 fine at Magistrates Court.
We hope that Leighton Hospital will now reveal the names of the people who committed these crimes as up to now they have been protecting these criminals by failing to supply their names. The ruling is significant as Leighton Hospital give suppositories all the time without consent so now people can sue them for this and the doctors can be struck off. Many patients have complained to us that they had there underwear removed while they were sedated totally without their consent. The hospital just don't understand the effects this has on people and they are committing criminal acts by doing it

Experts Opinion

1. We sent Steve Bolsin BSc, MB BS, FRCA, FANZCA, MRACMA, MHSM, DLitt (Hon)
Director of Perioperative Medicine, Anaesthesia & Pain Management
The Geelong Hospital Geelong Victoria 3220 the notes and asked for his comments which are


I have reviewed the notes that you have sent and certainly there is evidence of a large overdose of lignocaine and an inappropriately high dose of midazolam in the first instance. However there are other more systemic issues relating to the planning and anaesthesia for such an operation. For example it might have been safer to undertake the procedure on a patient weighting 135 Kg under general anaesthesia to anticipate and prevent some of the potential problems that arose during the procedure. Who undertook the anaesthetic assessment for the patient? What type of block was used for the surgery? What factors led to the operation taking 2 hours? Why was the atropine given? (Presumably for bradycardia). What was the cause of the bradycardia? Why did the surgeon proceed with any operating while the patient was in pain? This would imply withdrawal of consent for the operation at that time and under those circumstances and may be an assault.
The specific answers to your questions are:
Yes it is far too much midazolam in one dose and is evidence of lack of experience with the drug and the technique of sedation.
The local could drop the heart rate but if the patient could not breath then there may be more significant reasons such as hypoxia followed by bradycardia.
The local dosage is a large overdose and inappropriate in the circumstances.
I can not see the correction in my copy but if there has been an alteration this is a very significant piece of information in itself. You need to find out who altered the chart and for what reason? If the bradycardia was due to hypoxia the saturations must have fallen. If there was no fall in saturations then the bradycardia was due to the local anaesthetic overdose and is still very significant.
Yes the operation should be pain free.
Hyperthermia for long operations can be easily prevented by warming blankets. these usually blow hot air over the patient and should have been used for any operation taking more than 20-30 mins.
I hope this brief assessment helps you.
Steve



Effects of the operation


An open letter to nurses and doctors

Special note here the patient express her personnel feeling of what happened during an operation she was sedated for some of the experience with a drug known to give sexual daydreams.

I went into Leighton hospital for a simple hernia operation as a day case and before the operation I told the nurse I didn't want my knickers removed. She said as I was 21st they were not in the way and that was fine I also told her I didn't want a suppository. I was taken into the anaesthetic room and given a massive dose of Midazolam 10mg all in one go according to my medical records.
I then started having a terrifying dream of being gang raped I was in a room full of people and they were removing my knickers in the most dirty, vile filthy and perverted way I feared for my life. I was unable to stop them doing these vile things to me and I was totally humiliated being stripped in public in this way it was the most terrifying experience of my life.
Midazolam is know to enhance sexual feeling and lots of cases of people having these feeling that's why it popular as a date rape drug. My knickers were removed for none medical reasons they claim so they wouldn't get stained. Any women would prefer to loose a 50p pair of knickers instead of being forcible striped by complete strangers. I don't know if it was done so people could look at my private parts in order to get sexual pleasure or what. As it's a criminal offence of Assault and Battery which can have a 6 months custodial sentence I wouldn't think anyone would do it without they got pleasure out of it. To ask a women while awake to remove her own knickers is one thing but to forcibly strip someone is a totally different thing As I was coming around from the operation I was awake when a nurse lifted my legs and buggered me.

Both the things were done totally without my consent and expressly against my wishes I don't care how good a reason you had you did it totally without consent and for that reason its sexual assault.

It has now been nearly 2 years since this happened and I still wake in the night from horrendous nightmares screaming and trying to cover my self from the sexual assault my heart rate goes through the roof and I cant breath. My life has changed I am dirty and can never be clean again I have been sexually abused just the same as if I had been raped but its worse than that as I was helpless and had no way of stopping the attack, I couldn't even fight back. I cant have any sort of sexual relations as I am unclean and cant stand the thought of anyone touching me. I have been buggered and deeply humiliated without my consent has taken place and once again I was unable to stop this happening to me.
What makes this worse is the hospital refuse to sack this woman or name her so she can be brought to justice. She has no excuse for what she did its her job to ensure she obtains consent before she touches anyone and simply asking if its ok and explaining what she wanted to do is all it took but she didn't do any of these things just simply buggered me. No decant caring nurse would do this terrible thing without first obtaining consent.

In the last 2 years I have lost over 11st in weight due to this incident. If I go out and see a group of people it can bring on panic attacks were I think they are going to strip me again my heart races and I cant get my breath. The attacks can happen watching television if there is anything similar to what happened to me. My life is a total mess I am depressed and often go into a world of my own for a week at a time. I cant talk about what happened without getting flash backs.

The hospitals attitude is once you give consent to an operation they can do what the fucking hell they like to you. For senior management to refuse to give the names of the perverts that did this is unbelievable. The senior management at the hospital refuse to answer any emails and have not bother to even apologise for the sexual assault they claim it was all done above board but if you bugger someone and remove their underwear without consent there is no grey area its assault. The GMC have ruled that these things were done without consent so there is no doubt that in the eyes of the law a crime has been committed but still the hospital refuse to name or discipline the nurses who have done this to me.

I want all doctors and nurse to read this and I hope they will then think before they do anything to a patient without first obtaining consent they must remember that people are not just pieces of meat but have feelings and fears and are very vulnerable. Maybe reading this they will understand what effect their actions can have on someone. To them removing underwear is nothing but to many this has the effects that I have described. Many modern women might not mind but there are thousands who feel like I do.
I noticed my time in hospital that most don't ask consent or explain what they intend to do they think they are gods better than the rest of us and can abuse patients and get away with it. I believe that most of the violent attacks on staff are because they don't explain what they are doing and don't seek consent. It take a second to say I want to take some blood is that ok.
I do accept that the whole incident was done for all the right reasons and nothing untoward happened but this doesn't make any difference to what I felt and what I still feel a lot of the feeling I believe are enhanced by the drug Midazolam that they used and it show they have considered the side effects of this drug. Midazolam can lead to the patient experiencing daydreams with a sexual content.